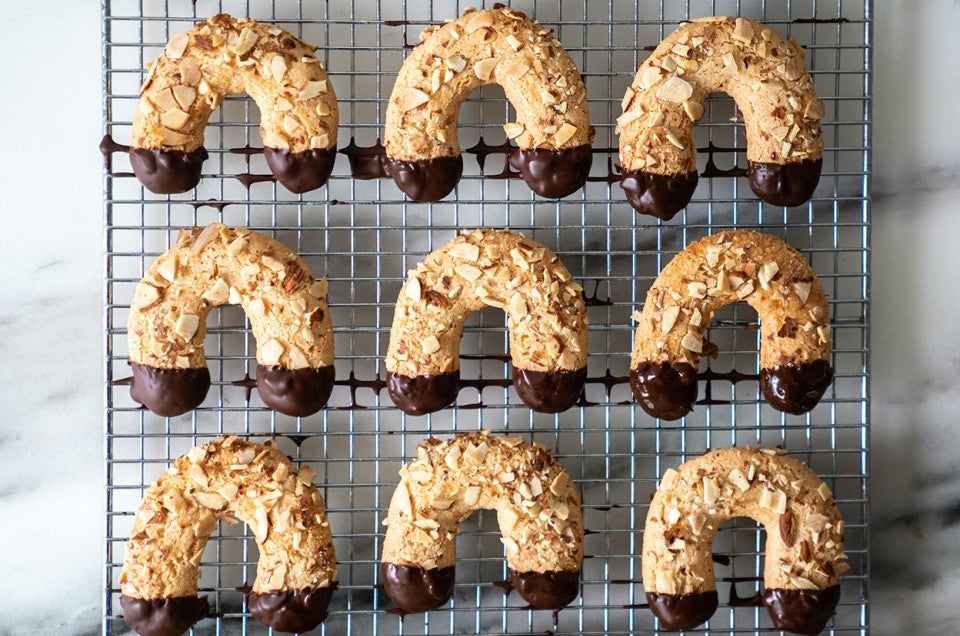 They are chewy in the middle with crunchy edges; the best ones are dunked in chocolate and keeping in mind that I still can't seem to see them with rainbow sprinkles, I say there's no better time than right now to make this a Thing.
If you have no soft spot for almond paste or almond extract, you should quit this recipe now. It's practically all they're made of. They're generally flourless, gluten-, leavener-and sans dairy (if you utilize a without dairy chocolate).
They are so simple to make, and they come out looking precisely as beautiful as they do at bread kitchens.
I would never let things be because I realize not every person can get excellent almond paste at the corner bodega; I endeavored to make them with hand-crafted almond paste. Unfortunately, while my most memorable endeavor tasted spot on, the cookies I made with it leveled out. I have much more testing to do; up to that point, storebought almond paste is more or less solid. Here it is some tips for meal of the day.
Almond Horns
SERVINGS: 10 TO 11 COOKIES
TIME: 1 HOUR
Can you involve marzipan for this? Marzipan is generally a piece better and stiffer than almond paste since it's expected for carrying out and shaping candies. Generally, you would instead not use them conversely, yet I've seen so many horns plans that begin with marzipan since I began glancing around; I don't expect that it would be an issue and maybe more simple to deal with (the batter is very soft with paste). In any case, if you can track down paste, use it first here.
Conventional Mandelhörnchen is very large; these are more modest (around 3 to 4 crawls across).
Another formula is to get chocolate in each chomp and not right at the closures; to do so, we have to essentially spread the chocolate down the rear of the treatment as opposed to plunging the finishes. For this, you could observe you want somewhat less chocolate (around 4 ounces) since you won't require a dippable volume.
7 ounces (198 grams) of almond paste
1/4 cup (50 grams) granulated sugar
1 large egg white
Two pinches of sea salt
1 1/4 cup (130 grams) sliced almonds, blanched are more traditional
6 ounces semi- or bittersweet chocolate, chopped or in chips (about 1 cup)
Colored sprinkles (optional, but not really)
Heat broiler to 350 degrees F. Line a large baking sheet with material paper.
Make cookies mixture: Cut, tear or mesh paste and spot in a bowl with the oar connection of a stand mixer. (Mine was very soft, so I just dropped it close by torn lumps.) Add sugar and beat, covering the lip of the bowl with a dishtowel to get bits from flying out until almond paste cannot be separated any further, roughly 3 to 5 minutes at a medium-fast. Add egg white and salt and beat until uniform and smooth. Place cut almonds in a wide shallow bowl or plate. Have one more bowl with water to get your hands wet.
Structure cookies: Wet hands and scoop one tablespoon of mixture (can utilize an estimating spoon, somewhat overloaded is fine) into your palms. It will be exceptionally soft, and you will think something has turned out badly; it has not. Keep your hands wet, roll it into a 4-ish inch log (I just extended it across my hand), and drop it into the bowl of almonds. Wipe your hands dry on a towel (or the almonds adhere to your hands, pulling them off the cookies) and roll log through it. Once more, it's very soft and will appear to be peculiar from the get-go, yet do your best and move the soft almond-shrouded log to the pre-arranged plate and bend it into a horn shape. Press any free almonds back on. Rehash with the residual mixture.
Heat cookies: For 15 minutes, or until almonds on cookies are delicately roasted and the horns puffed. Let them cool totally.
To wrap up: Melt chocolate in a bit of bowl and dunk closures of cookies into it, then, at that point, return to the parchment-lined plate to set. Add sprinkles (discretionary).
Do ahead: Once the chocolate is set, keep it in a tin for seven days.